What is Revenuelab?
Revenuelab
is an innovative platform that operates as an affiliate program aggregator. It serves as a centralized hub that brings together a wide range of affiliate programs from various industries and networks. Rather than requiring marketers to join multiple affiliate networks individually, Revenuelab simplifies the process by offering a comprehensive selection of programs all in one place.
The platform aims to empower affiliate marketers by providing them with an extensive range of affiliate offers to choose from. By curating programs from reputed affiliate networks, Revenuelab ensures that affiliates have access to a diverse set of opportunities across industries such as finance, gaming, e-commerce, health, and more.
One of the standout features of Revenuelab is its advanced analytics and reporting tools, which enable affiliates to track their campaigns' performance effectively. Marketers can monitor essential metrics like clicks, conversions, revenue, and more, allowing them to optimize their marketing strategies and drive better results.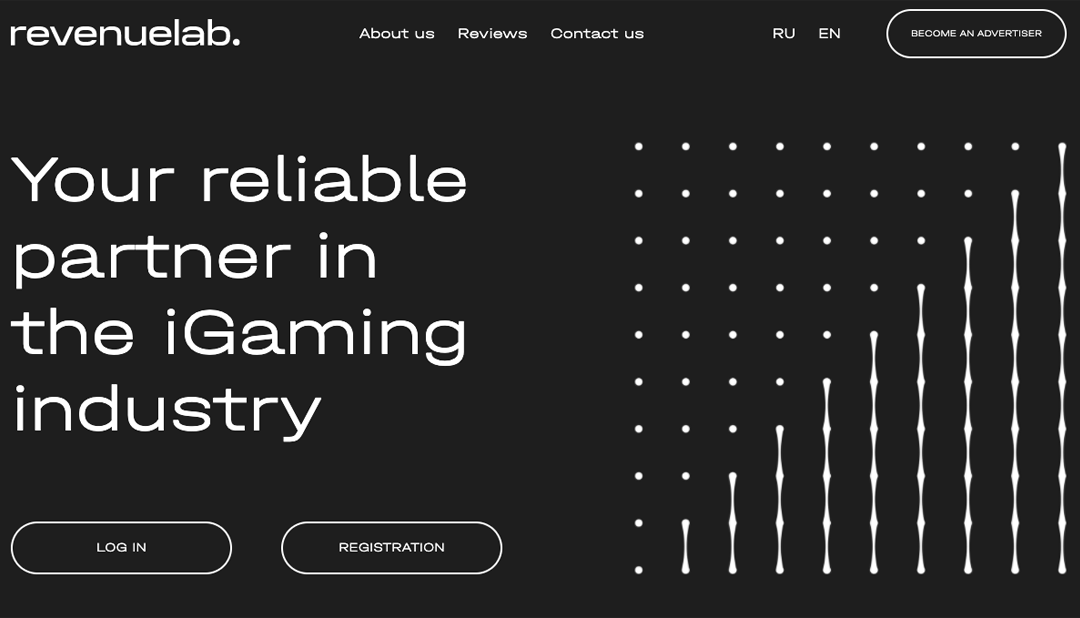 Revenuelab also incorporates smart link technology, which simplifies the process of monetizing traffic. Affiliates can generate a universal tracking link that automatically directs users to the most relevant offer based on their location and other factors. This feature streamlines the affiliate marketing workflow and enhances conversions by ensuring users are presented with the most suitable offers.
With its user-friendly interface, customizable dashboard, and additional affiliate tools like landing page builders and banner generators, Revenuelab aims to provide a seamless experience for affiliate marketers. By centralizing the affiliate program search, tracking, and management processes, Revenuelab enables marketers to save time, increase their earning potential, and make data-driven decisions to optimize their campaigns.  
Revenuelab Ad Formats and Offer Types
Revenuelab
, as an affiliate program aggregator, offers a wide range of ad formats and offer types to accommodate the needs and preferences of affiliate marketers. The platform aims to provide diverse opportunities for monetizing traffic across various industries. The aggregator's database has more than 1000 offers for poker, betting, and casinos. This distinguishes RevenueLab from its rivals. You may discover excellent casino deals from BGO, 10bet, Eduprofit, William Hill, and other providers on the site. 
Here are some of the ad formats and offer types available on Revenuelab:  
Cost Per Sale (CPS);
Cost Per Action (CPA);
Cost Per Lead (CPL);
Cost Per Click (CPC);
Hybrid Models.
It's important to note that the availability of specific ad formats and offer types may vary over time as Revenuelab continues to update its offerings based on market trends and partner networks. 
Additionally, you don't need to bother about marketing materials since RevenueLab offers pre-made landing pages to affiliates. Additionally, you may ask for specially created marketing materials since RevenueLab has a team of designers on staff that can assist you with landers and creatives.  
Revenuelab Payouts
Revenuelab
, as an affiliate program aggregator, facilitates payouts to affiliate marketers based on the terms and conditions set by the individual affiliate programs available on the platform. The specific payout methods and schedules may vary depending on the affiliate networks and programs you choose to participate in through Revenuelab.
So, $50 is the minimal payment level. You may choose a payment method that best suits your needs. There are more than 30 different payment methods available on your dashboard, including WebMoney, Capitalist, QIWI, Wire Transfer, and Credit Card.
The payment occurs once every month. If you generate significant amounts of high-quality traffic, you may potentially bargain for specific compensation conditions.  
How to sign up Revenuelab?
It's easy! To sign up for Revenuelab, you can follow these general steps:  
Visit the Revenuelab website;
Find the "Log In" button;
Choose "For advertisers" or "For affiliates";
Click "Login" and tap password;
Submit your registration;
Verification and approval;
Access your account.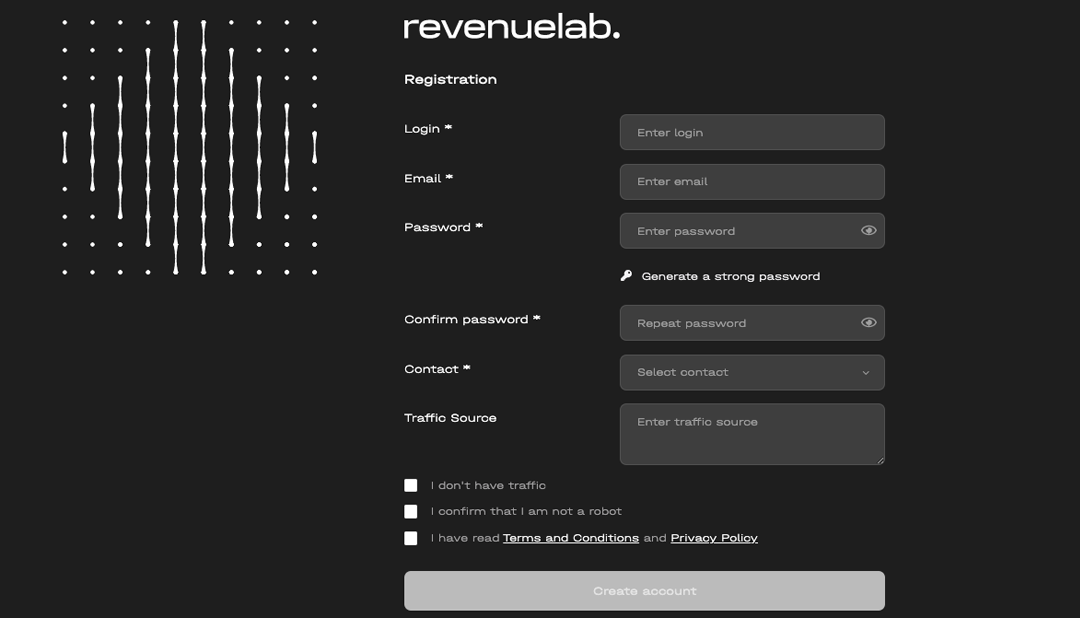 It's recommended to visit the official Revenuelab website and follow the provided instructions or contact their support team if you require any further assistance during the registration process.  
Revenuelab GEO
Tier-1 nations, Latin America, and Asia currently display a high conversion rate among the GEOs. Additionally, RevenueLab's database has offers for African GEOs. The group thinks that this GEO is the most promising and is becoming more well-liked among affiliate marketers. As a result, you have a decent probability of conducting successful advertisements that target this GEO.  
Revenuelab Interface
The Revenuelab interface is designed to provide a user-friendly and intuitive experience for affiliate marketers. While I don't have direct access to the current interface, I can provide you with a general overview of what you can expect from the Revenuelab interface based on typical features found in affiliate program aggregator platforms:
Dashboard: Upon logging into your Revenuelab account, you will likely be greeted with a dashboard. This centralized hub provides an overview of your affiliate marketing activities, including important metrics, earnings, and recent campaign performance.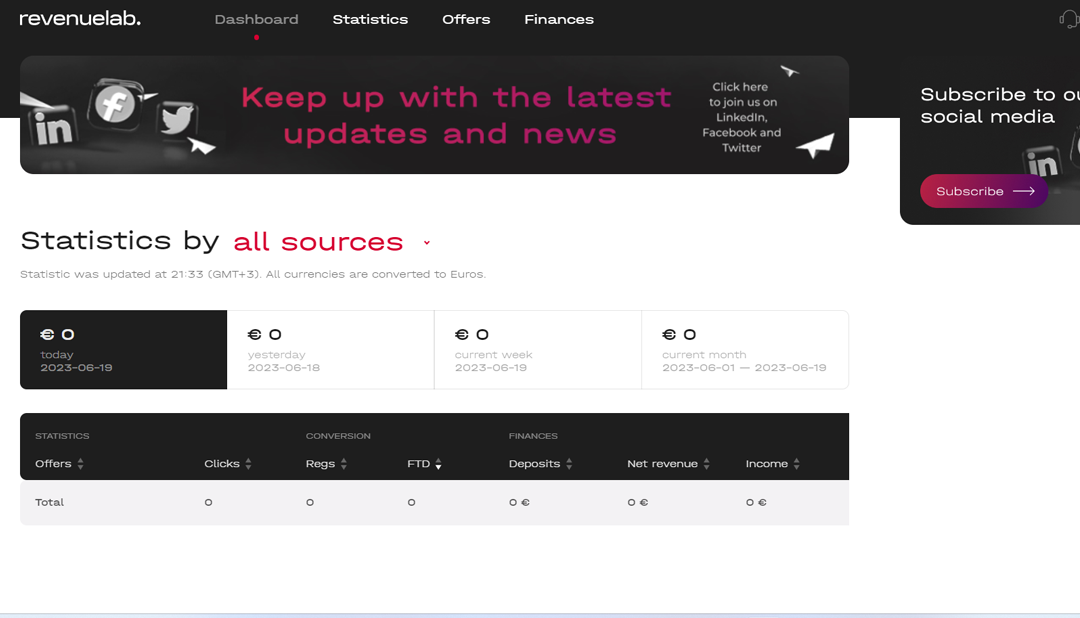 Offers: The Revenuelab interface should offer a search function or browsing capabilities to help you find affiliate offer that align with your niche, interests, or marketing goals. You may be able to filter programs based on industry, payout type, commission rates, and other criteria.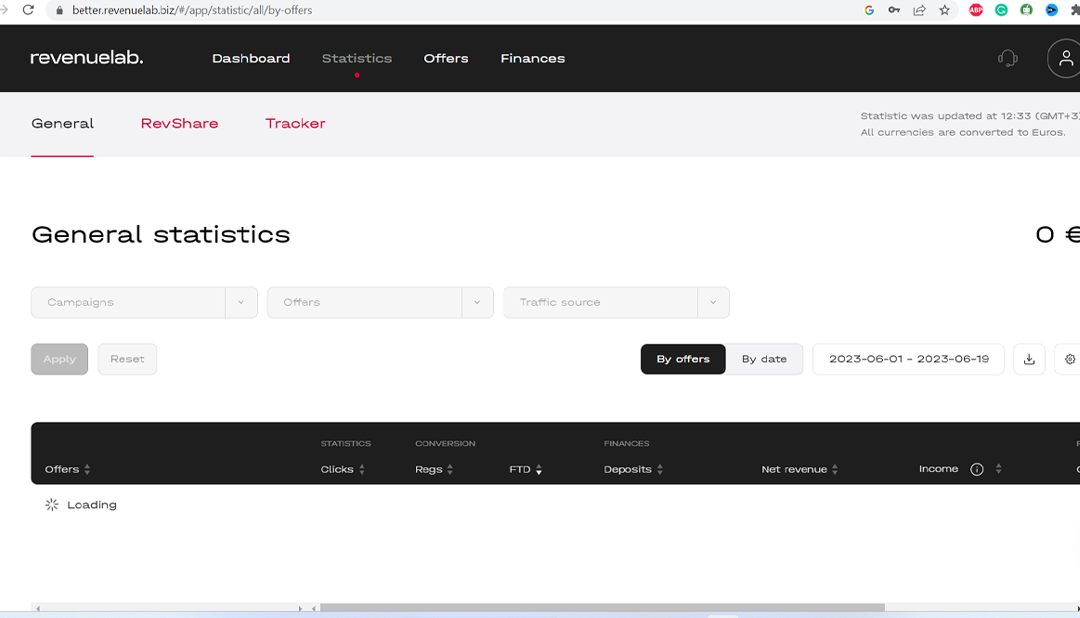 Statistics: Revenuelab is likely to provide reporting and analytics features to help you track and measure the performance of your affiliate campaigns. This may include tracking clicks, conversions, earnings, and other key metrics to evaluate the success of your marketing efforts.
Finances: Within the interface, you should have access to information regarding your earnings, payment history, and payout options. You may be able to request payments or set preferences for your preferred payment methods.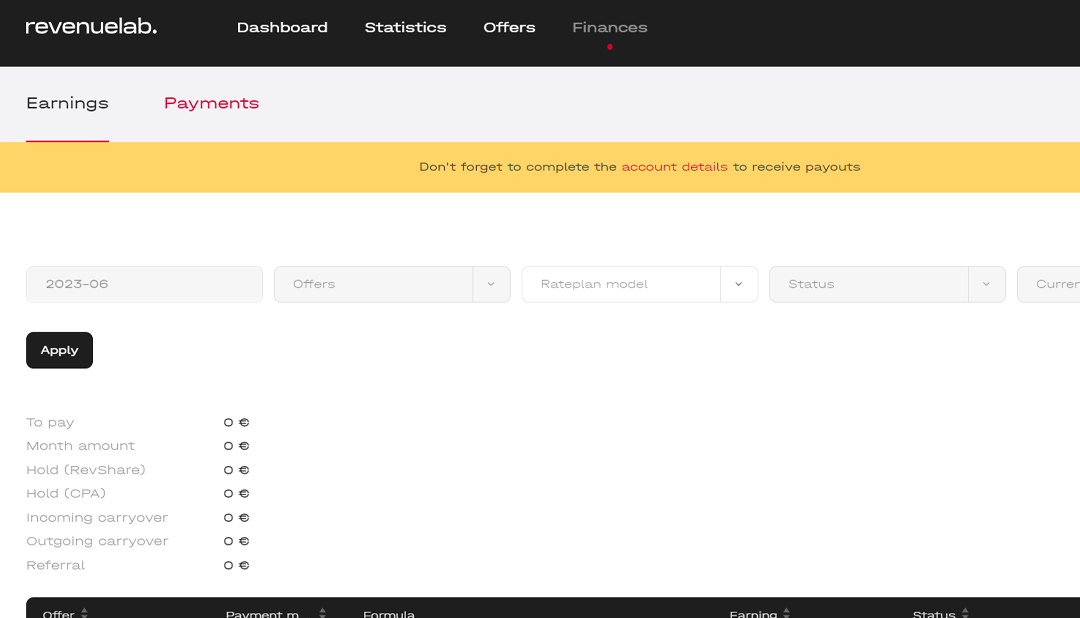 Support and Help Center: Revenuelab may have a dedicated support section or help center within the interface. This can provide access to FAQs, tutorials, contact information for customer support, and any community or forum features for affiliates to connect and seek assistance.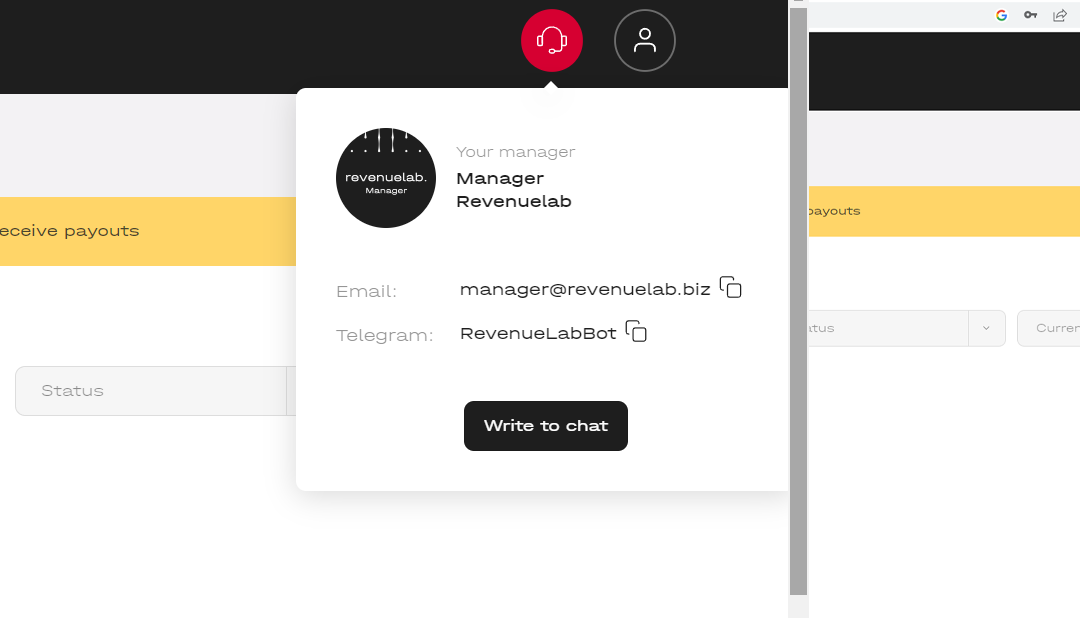 It's important to note that the specific layout and features of the Revenuelab interface may vary based on updates, improvements, and the version you are using.   
Revenuelab Pros&Cons
Revenuelab, an affiliate program aggregator, offers affiliate marketers a centralized platform to discover, manage, and monetize a wide range of affiliate programs. While Revenuelab provides numerous benefits to its users, it is essential to consider both the pros and cons of the platform to make an informed decision. 
Pros of Revenuelab:
Comprehensive Affiliate Program Selection;
Legitimate payouts;
Centralized Platform;
More than 1 000 iGaming offers;
Referral program;
Solid market record;
Advanced Analytics and Reporting;
Additional Affiliate Tools.
Cons of Revenuelab:
Commission Structures and Payouts;
Platform Reliance.
The specific pros and cons of Revenuelab may evolve over time, so it's advisable to visit the official Revenuelab website and review the current offerings and user feedback.  
Summary
In conclusion,
Revenuelab
, with its comprehensive selection of programs, advanced analytics, and smart link technology, provides affiliates with the tools and resources necessary to optimize their marketing strategies and drive revenue. 
Therefore, affiliate marketers should carefully review the specific terms and conditions of each program within Revenuelab to ensure it aligns with their goals and preferences. Overall, Revenuelab offers a convenient solution for affiliate marketers seeking to maximize their earning potential through a centralized and user-friendly platform.