What We Know about Pin-Up Partners
It is an affiliate that specializes in gambling. Now the company is among the rightful leaders in the CIS gambling and betting market. Besides,
Pin-Up Partners
is a direct advertiser of an online casino and betting service of the same name.
At this stage, the affiliate accepts traffic from more than 50 countries worldwide (including many CIS countries) and actively develops profitable destinations such as Brazil, Portugal, Turkey, Azerbaijan, and Moldova.  
Partnership Models and Rates
Pin-Up Partners has several partnership models with quite favorable conditions: 
1.   Revenue Share allows you to get up to 50% of the profit from the players while you work using a straightforward and transparent formula with no dynamic values.
2.   CPA is a one-time payment for a player's first deposit from $25 to $50.
3.   Hybrid model represents a great opportunity for more experienced webmasters. To activate it, you need to contact a personal affiliate manager.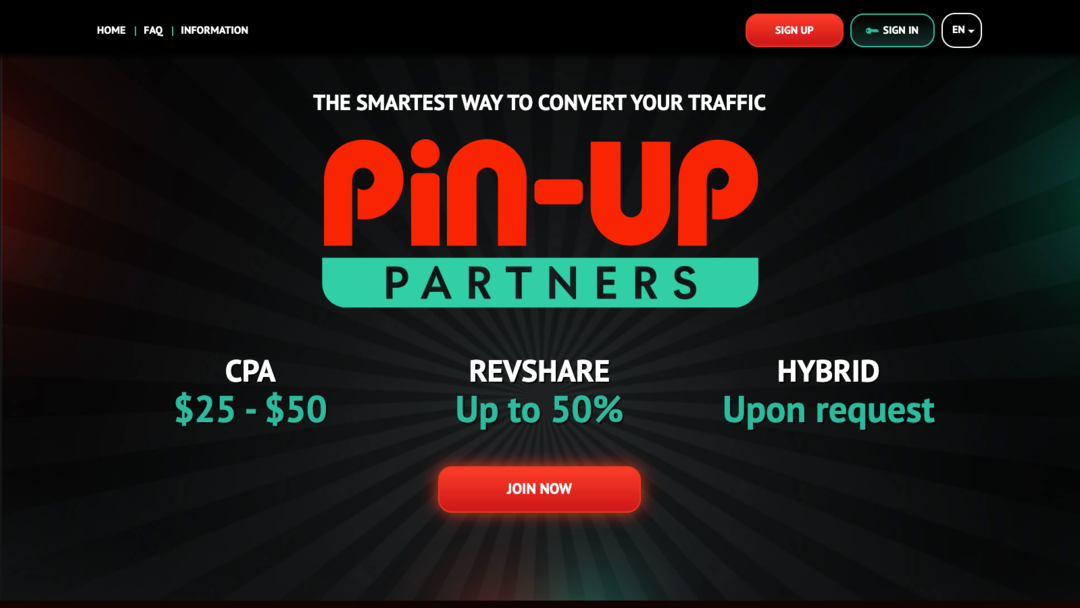 The rates refer to payment for the first deposit. Besides, the basic conditions have no multi offers' cuts, baselines, and bonus hunters. The only conditions for payment are the absence of technical problems in the app or motives and KPIs fulfillment.  
 CPA rates for different geo-locations:       
BR: $50
PRT: $50
AZ: $35
RU: $25
KZ: $25
UA: $20
MD: $20
Moreover, the affiliate added new rates from June. $50 CPA media rate for RU betting and $40 UA casino rate. You can check all the perks of Pin-Up Partners rates today after the quick registration.

The Tools to Work With
At this stage, the affiliate offers two licensed projects: Pin-Up Casino + Pin-Up Bet. Partners receive a fresh player base from the fully localized platforms and well-functioning marketing through different channels, from mailing to retargeting. And the direct integration of payment systems allows flexible customization of the payments according to a user and the relevant region. 
Also, keep in mind that the affiliate went through a lot of trouble with the design, so everything has a uniform Pin-Up style. The recognizable American style is unmistakable not only in product design but also in all promo materials.  
 What's in it for advertisers? We're here to tell.

Pin-Up Casino
Pin-Up Casino is a modern online casino that covers the needs of even the most sophisticated users. The fast registration system, unique design, thousands of slots, and attractive bonus program are the elements of Pin-Up Casino, one of the best conversion products in the CIS.  
 Brand benefits:             
fast registration;
colorful and memorable interface design;
thousands of slots from 27 global providers;
amazing bonuses (welcome bonus for players up to $500, cashback up to 10%, numerous promos, tournaments);
unique TV games and more than 4,000 gambling slots;
VIP service for top players.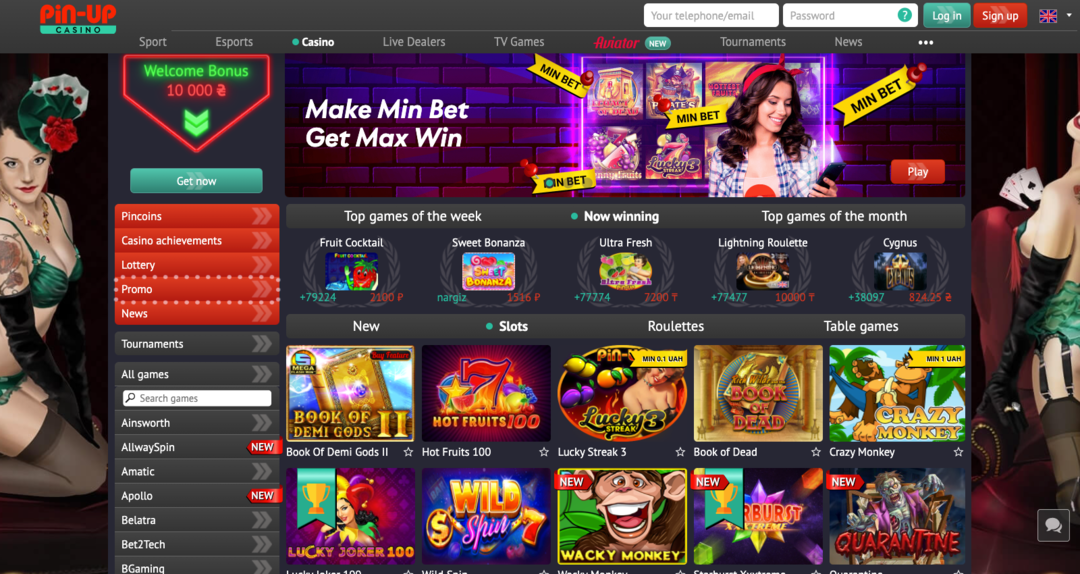 Pin-Up Bet
Pin-Up Bet is a licensed betting company with attractive pre-match and lives betting lines! Thousands of sports events, cyber sports betting and a unique bonus program allow the company to stay among the leaders of sports and gambling.  
 Brand benefits:   
one-click registration;
as simple player's path to deposit as possible;
long-term line of events;
low minimum deposit amount;
50,000 sports events per month;
unique TV live games;
cashback for deposits.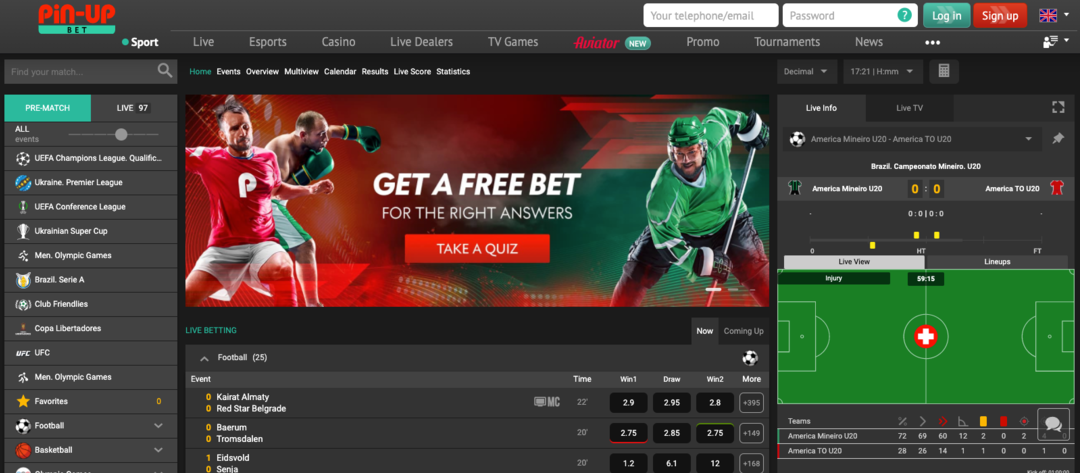 Pin-Up Partners benefits vs. competitors
1.   Extensive range of geo-locations.
2.   Three models of work with top rates.
3.   Transparent conditions on traffic sources and rates.
4.   Branded traffic is allowed.
5.   Zeroing out of negative balances on RevShare terms.
6.   Unique Pin-Up style of ad materials of all sizes and formats.
7.   Free mobile apps for iOS and Android for webmasters.
8.   Referral system for partners — 3%.
9.   In-house development.
10. No admin fees.

What Is the Situation with Betting These Days?
It is no secret that the global situation has hit the betting vertical hard. All sporting events and major competitions were canceled due to the strict quarantine. 
But now the situation is getting back to normal, the athletes are back, and the affiliate has already managed to attract 85% of the old players back. With the Russian Premier League and English Premier League start, the affiliate will fully restore its pre-quarantine volumes. 
Moreover, the next two years promise to be, well, very hot for all webmasters who drive betting traffic. Future sports events include:           
UEFA Euro 2020;
World Cup;
Olympics;
a row of top leagues and the huge money invested by leagues and federations in promotion of broadcasting due to restrictions on physical attendance of games and offline marketing.
The affiliate predicts x2 market growth over the next two years and active changes that can already be seen. Tech-friendly platforms with flexible marketing are moving forward. So now is the perfect time to start sourcing betting traffic with Pin-Up Partners.

Payouts to Partners
Twice a month (from the 1st to the 15th and from the 16th to the 31st) affiliate managers conduct a thorough quality check of the traffic and launch automatic payments. A big plus is that when you work with an affiliate on the RevShare terms, you can withdraw your hard-earned money every day.
The minimum amount for withdrawal is $15, and, for your convenience, Pin-Up Partners joined all the top payment systems: WebMoney, Wire, Skrill, Qiwi, Yandex. Money, Neteller plus wallets in the payment aggregators and wire transfer.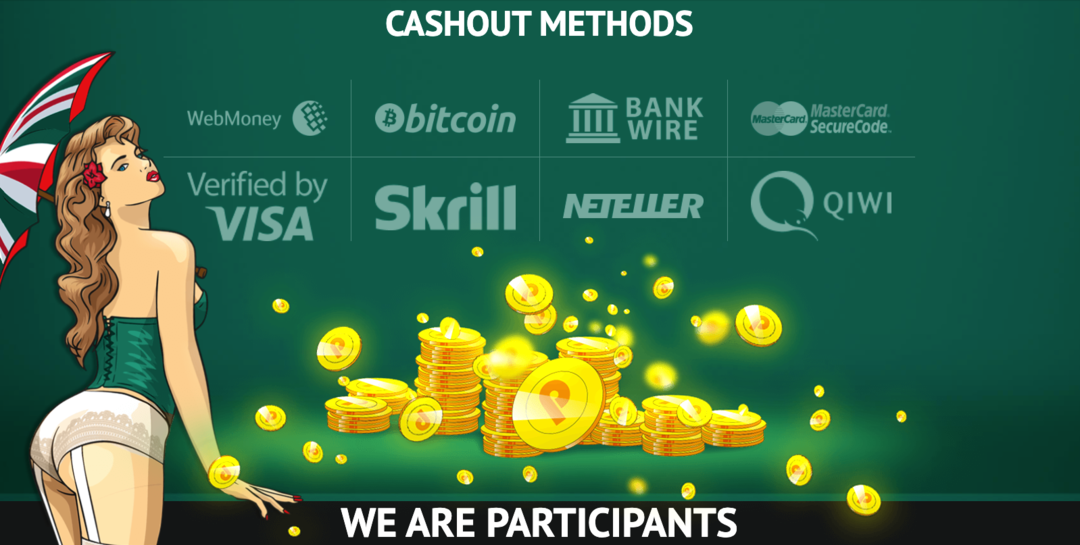 The Pin-Up Partners team is very friendly and works to meet the needs of its partners. Thus, accruals in US dollars can be converted at the webmaster's request into any other currency according to the official exchange rate. Besides, the affiliate is always ready to consider an individual request and make early payments to partners in case of successful cooperation, KPIs fulfillment, and absence of problems with the traffic checked by the anti-fraud department. 
 
Summary
Pin-Up Partners
is a respectable affiliate in the gambling and betting niche. It has everything to make the life of a webmaster working with gambling traffic much easier.
Flexible partnership terms, top rates, unique promo materials, and in-house development, all of it (and even more) awaits you after you register with Pin-Up Partners.
You can ask all the questions you have via Telegram @pinupmanager