What We Know about Neogara
Neogara
is an affiliate program in the financial vertical with cryptocurrency, trading, forex, and binary options offers.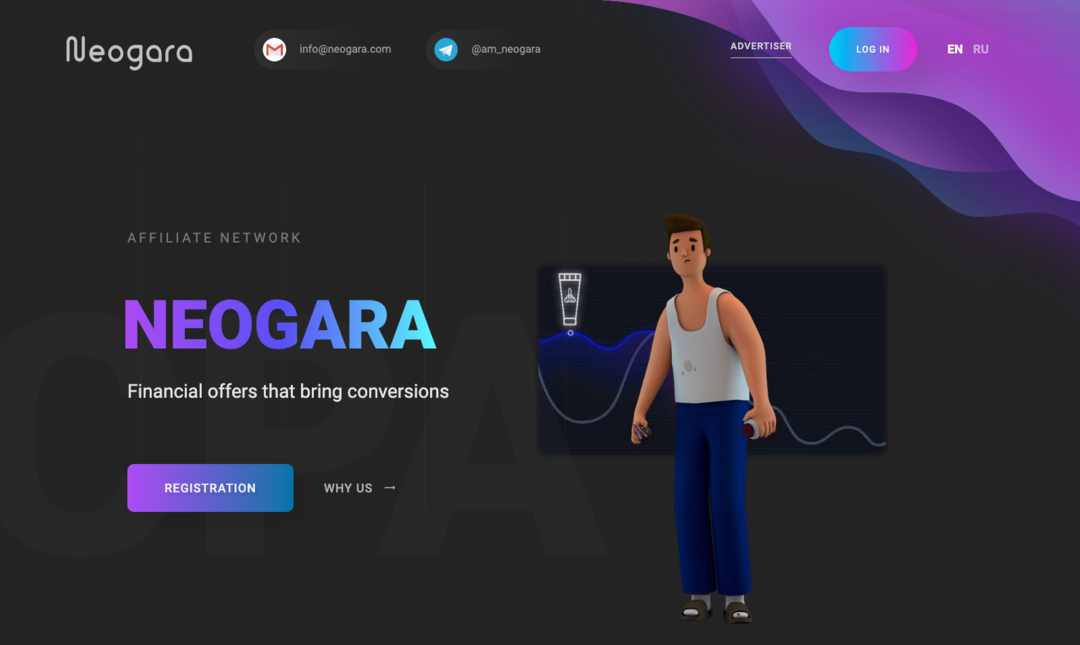 These guys are the direct advertisers of most of the offers you find in your account. All offers are from licensed brokers Neogara's buyers have been redirecting traffic to for five years already. That's why every webmaster can count on favorable conditions for quality traffic monetization. 
The in-house media buying department tests all of the offers before referring them to webmasters. In addition, they can suggest profitable working bundles and cases. 
Neogara has both partner and in-house call centers. It means that webmasters can count on quick calls to leads and, accordingly, top CR. In addition, the custom affiliate platform was explicitly designed to meet the needs of those who want to earn on crypto offers.
CPA network is interested in working with experienced webs, so if you provide good traffic regularly, the affiliate program will offer you individual conditions and help with the budget and promo.  
 Perks of Working with Neogara:
direct offers from licensed brokers;
possible individual terms of partnership and access to exclusive offers for those with whom the affiliate establishes a trusting relationship;
always available personal manager;
media buyers who test the offers and suggest working bundles;
exclusive creatives to achieve the best conversion on live traffic;
high rates;
fast-working call center;
no, hold for those who excel and supply large traffic volumes.
Affiliate program invites webmasters experienced in crypto or black hat: gambling, betting, nutraceuticals, dating, etc.   
Overview of Webmaster's Account Page in Neogara Affiliate Program
During the
registration
in the affiliate network, the system requires you to provide primary data: email, name, password, and a Telegram or Skype link. After that, you have to confirm your email and wait for a manager's answer with the account's approval. Then you will have an exciting conversation about the best offers, geo-locations, and sources.

After logging in, you get access to your account's page where you can find analytics, top offers, manager's contact details, and a menu with such sections as "Offers", "Statistics", "Payouts", and "Support".

As we've already mentioned, you can contact the manager to choose the right offers and get help with pre-landing, landing pages, banners, etc. If you have no experience in this vertical, the manager will explain to you how to start, choose test traffic sources and geo-location, and the approach that is more likely to work. Those webmasters who prove themselves efficient will eventually be able to get ready-to-use apps for sourcing. 
You can find the affiliate offers in the "Offers" section. To request access, click on the relevant button. Soon it will appear in the "Connected" block, and next to the offer you selected, you will see a button "More Details" to find out more.

Then there is information about the offer: purpose, payout amount, geo-location, allowed and forbidden traffic sources, call center schedule, test cap, and hold size. The AP allows using any sources, except for the fraud, spam, and motivated traffic. The offer tracking link, a script, and a button to set up postbacks are in the center.

By copying and pasting the tracking link into the search, you can evaluate your funnel. Here's an example.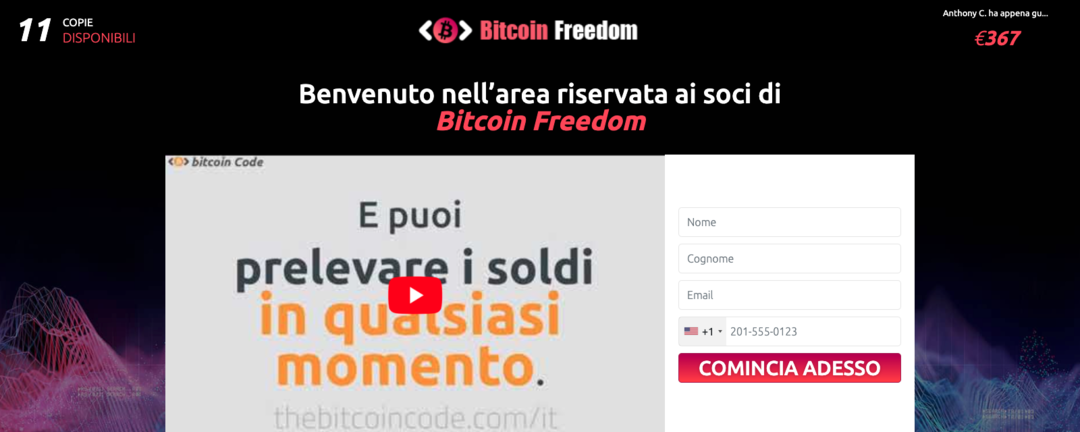 You can use a script for more effective and organized work. Neogara provides detailed instructions on how to connect it, so you won't have any trouble.
The function of adding postbacks is also on the page. After clicking on this button, you'll see a new window. Specify the postback target type, its status, link to the website, mark the necessary tags, and save it.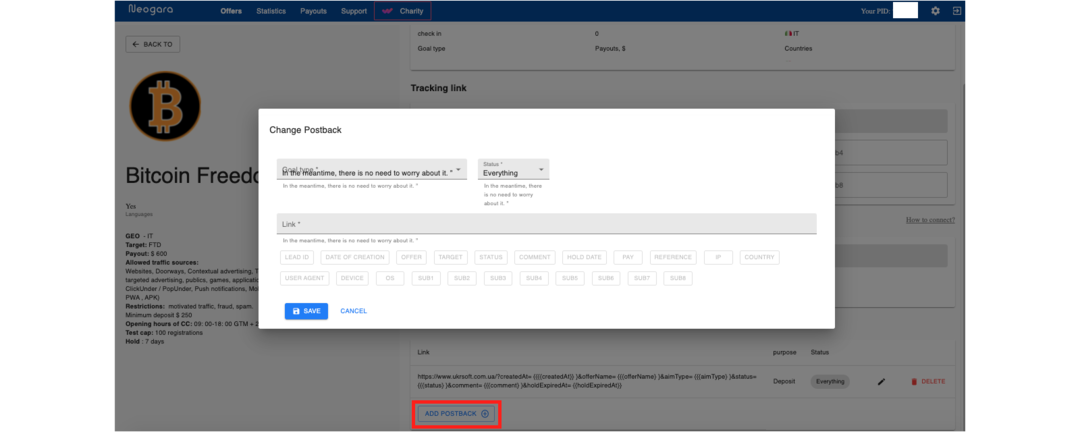 To get creatives and recommendations on how to work with an offer, contact your manager. If you start supplying high volumes, the manager will raise your rate, provide you with excellent conditions, or throw in VIP options for sourcing. 
Statistics and information on payouts are in the sections with the same names. In general, the interface is intuitive and straightforward. In addition, most of the work lies in the interaction with Neogara's manager, so try to establish a good relationship to get better results.  
Neogara Payout Process
 The affiliate makes payouts twice a week. There is a 7-day hold for the test period – no hold for reliable partners.
You can use such payment systems as Yandex. Money, WebMoney, PaySera, Paxum, PayPal, and Bitcoin to withdraw your earnings.  
Neogara Affiliate Program Promo
On New Year's Eve, Neogara decided to give its partners a gift. Till the end of December, the affiliate raises rates by 10-15% for each offer and gives all webmasters USD 500 to their accounts for the first five deposits. So, don't waste your time. Hurry up and register and grab your piece of pie!  
Summary
Neogara invites experienced and less experienced webmasters to join the team to work with crypto, trading, forex, and options. If you want to try your hand in the financial vertical or find an affiliate with attractive rates, now's your chance.
Register with Neogara
and get USD 500 added to your earnings.