What is 7Bit Partners?
7Bit Partners
is a company that operates as an affiliate program for online casinos. It serves as a platform for promoting and marketing various online casino brands and earning commissions through referrals. Affiliate programs like 7Bit Partners provide website owners, marketers, and influencers with the opportunity to earn revenue by driving traffic and new customers to online casinos.
As an affiliate, 7Bit Partners offers a range of marketing tools, including banners, links, and tracking systems, to help affiliates effectively promote their partner casinos. Affiliates earn commissions based on the referred players' activity, such as their deposits and wagers. These commissions can be in the form of revenue share, CPA (Cost Per Acquisition), or hybrid models.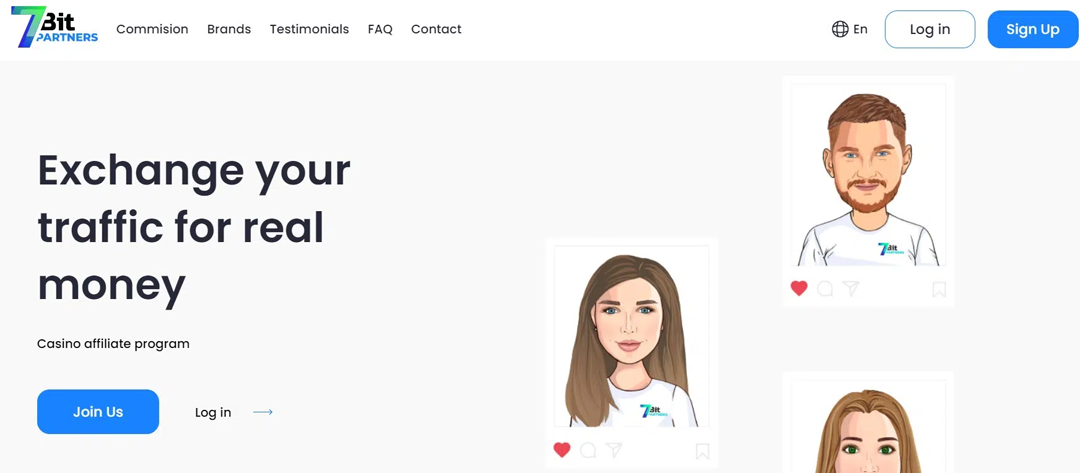 This affiliate program offers a variety of exceptional features, including sub-affiliate commissions, good standard compensation structures, and accessible commission plans.
This affiliate network gives its partners a variety of customizable and adjustable options in addition to a basic revenue structure that goes to 45% RevShare. Additionally, it has a license from Curacao's government, one of the most reputable and well-known in the industry. 
Information regarding the prohibited nations of 7Bit Partners is not accessible in the terms and conditions of this affiliate program or on the official website. However, the brands do not allow players from a number of countries, including Aruba, Gibraltar, Israel, Italy, Spain, Sweden, and the United Kingdom.
7Bit Partners specifically focuses on promoting the 7Bit Casino brand, an online casino that offers a wide selection of games, including slots, table games, and live casino games. The casino supports cryptocurrencies like Bitcoin and provides a secure and user-friendly gaming experience.  
How to cooperate with 7Bit Partners
Affiliates that wish to promote two outstanding gambling firms can check out
7Bit Partners
. Those that sign up as affiliates may market the 7Bit Casino brands. 
Due to their wide selection of casino games and generous bonuses and promotions, these online casino firms are steadily growing in popularity among players. Both businesses have the potential for strong conversion and retention rates because of their player incentives.
Affiliates that promote brands of online casinos will get large revenue sharing and CPA bonuses. If they choose revenue-sharing commissions, affiliates may anticipate receiving at least to 45% of the total revenue made by the online casinos as a consequence of their successful recommendations.
If affiliates are eligible for CPA commissions via the affiliate program, they may additionally get a certain amount for each new player they refer. The program has changed its stance and abolished the unfriendly carryover policy, which worried several people.
Affiliate network deal with:
CPA: Their company enables you to work with them on a CPA basis, and you might get money from each lead. Your fortune increases as you draw in more real gamers;
RevShare: In order for you to take full use of their bitcoin casino affiliate program, 7BitPartners offers a market-competitive interest rate from NGR - get 25% to 45% of the NGR;
Hybrid: If you are unclear about the best kind of partnership, you may opt for a hybrid model (CPA + Revenue sharing). You'll seldom ever find rivals' hybrid products;
Sub-affiliate: Boost your recurring income by adding new site administrators to the affiliate network of 7Bit Partners. You might get 5% of their sales. The BTC casino referral incentive will rise according to the volume of players brought in.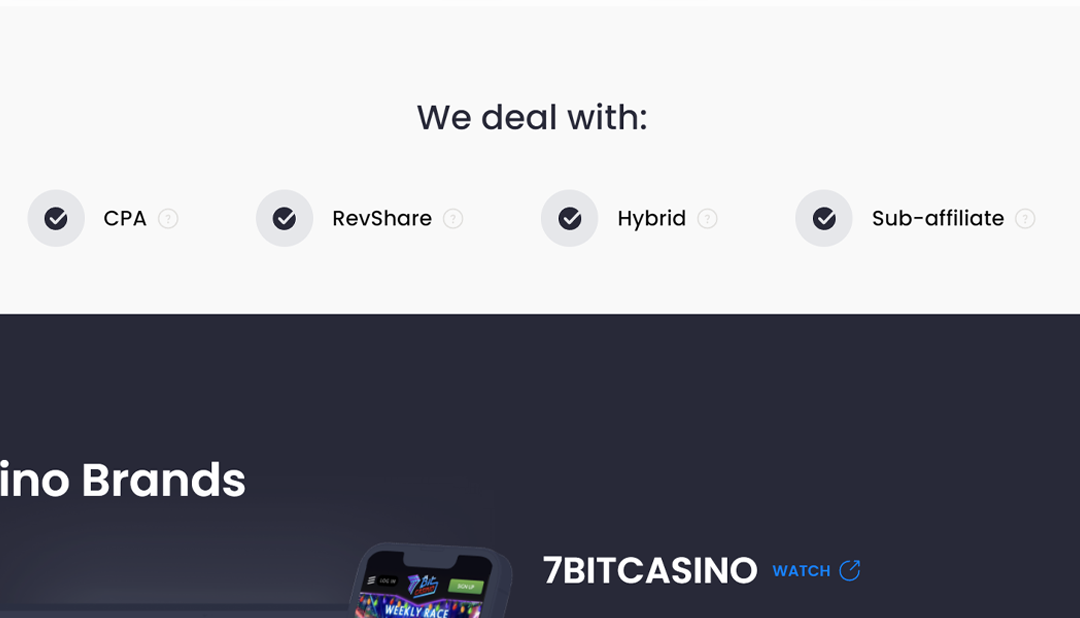 It's important to note that the specific details and requirements of cooperation with 7Bit Partners may vary, so it's recommended to visit their official website and review their terms and conditions, commission structure, and any specific guidelines they provide for affiliates.  
How to sign up 7Bit Partners?
The time it takes to join up for 7Bit Partners is under a minute. Follow the simple steps below to get started:  
Visit the 7Bit Partners website;
Locate the registration/sign-up page: Look for a "Sign Up" or "Register" button on the website's homepage or in the navigation menu;
Fill out the registration form: Click on the "Sign Up" or "Register" button to access the registration form;
Your personal details: Name, email address, country of residence, and preferred username;
Contact information: Your address and phone number;
Marketing details: Information about your marketing channels;
Agree to the terms and conditions: Carefully review the terms and conditions, affiliate agreement, or any other agreements provided by 7Bit Partners;
Complete the registration: After filling out all the required information and agreeing to the terms, submit the registration form by clicking on the "Sign Up" or "Register" button;
Access your affiliate account: Once your registration is complete and verified, you should receive confirmation of your account creation. You can then log in to your affiliate account using the login credentials you provided during the registration process;
Set up your promotional materials: Inside your affiliate account, you will find various marketing materials such as banners, links, and tracking codes. Familiarize yourself with these resources and customize them according to your marketing strategy and the platforms you plan to use for promotion.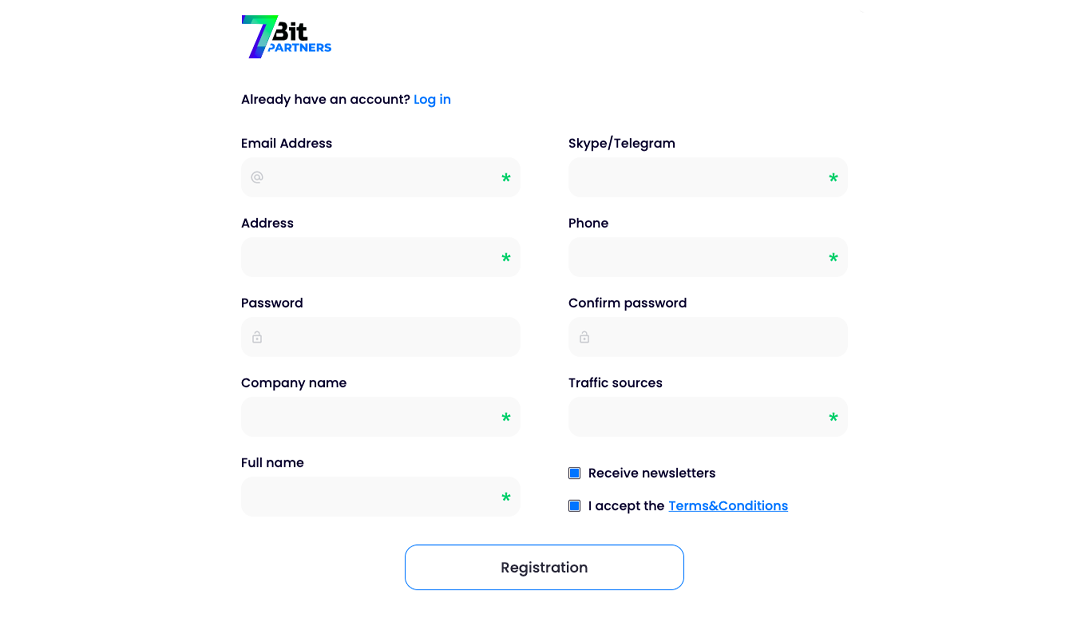 Remember to review the specific guidelines, terms, and commission structure provided by 7Bit Partners to ensure compliance with their policies. If you encounter any difficulties during the registration process, you can reach out to their support team for assistance.  
Withdrawal ways 7Bit Partners
The promise of 7Bit Partners is that your money will be delivered quickly. Since casino membership is required to become an affiliate, you may simply pay out your winnings using your casino account. The following techniques are available for money withdrawals:  
Cryptocurrency wallet
Cubits
iDEAL
Maestro
Mastercard
Neteller
Paysafecard
Skrill
SOFORT
Trustly
Visa
Zimpler
The affiliate program accepts both USD and EUR as payment methods. If you hold cryptocurrency, you may withdraw using BTC, BCH, or ETH. Your balance must be at least €100 in order to withdraw funds. 
To determine the specific withdrawal options available through 7Bit Partners, it is recommended to visit their website, log in to your affiliate account, and consult the provided documentation or contact their support team directly. They will be able to provide you with the most up-to-date information on the available withdrawal methods and any associated fees or requirements.
7Bit Partners Commission Policy
With the affiliate program, there are four different methods to earn money. These programs are typical of those used in other casino affiliate programs. The following information relates to the commission schemes provided by 7Bit Partners:  
0 - 500 € = 25% RevShare
500 - 1000 € = 30% RevShare
1000 - 3000 € = 35% RevShare
3000 - 5000 € = 40% RevShare
5000 - 10000 € = 45% RevShare
It's vital to note that an affiliate's commissions will increase the more revenue their players create.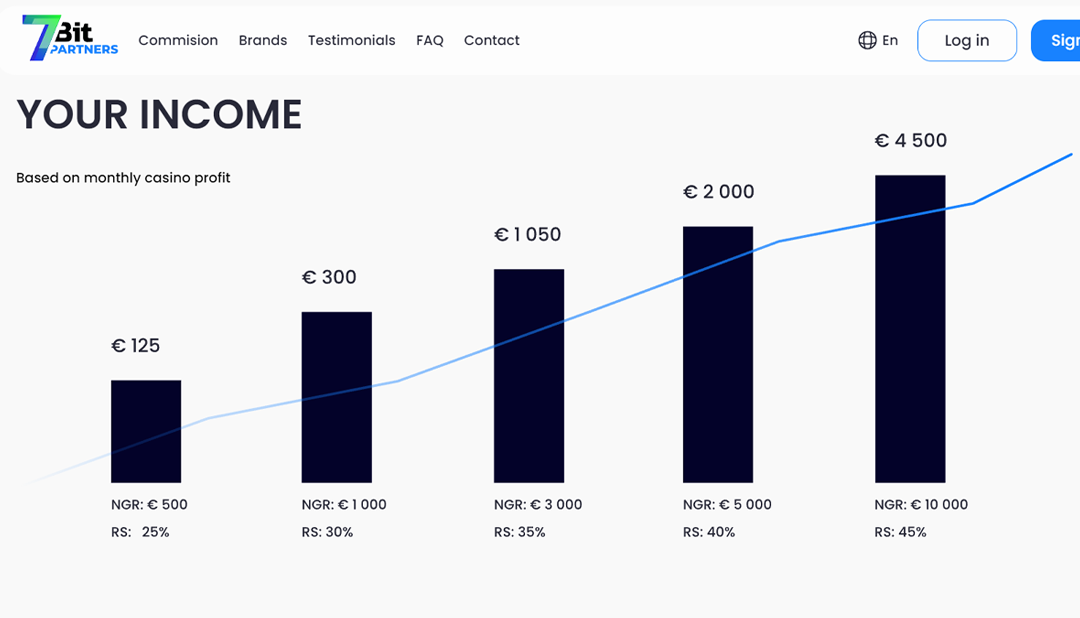 Additionally, the account managers are open to conversation with respect to this compensation structure, allowing for its modification and improvement for all affiliates.  
7Bit Partners Pros&Cons
7Bit Partners makes use of a specifically created piece of software that gives consumers access to a range of marketing, analytics, and reporting tools. Several payment options, including Visa, Skrill, Neteller, MasterCard, Bitcoin, and others, are used to process the payments. According to our study of 7Bit Partners, it promises excellent conversions, prompt payouts, a variety of marketing materials, and first-rate affiliate assistance. Here are some potential pros and cons of working with 7Bit Partners:
Pros:
Lucrative Commission Structure: 7Bit Partners may offer a competitive commission structure, allowing affiliates to earn significant revenue through their referrals;
Trusted and Established Brand: 7Bit Casino, the brand associated with 7Bit Partners, is a well-known and established online casino, which can enhance the credibility and trustworthiness of the affiliate program;
Absence of a hold period: Regular payments made within the first five days of each month;
A variety of payment methods: 7BitPartners provides both cryptocurrency and fiat payment choices;
Simple and attractive user interface: Affiliates are also given creatives, landing pages, and promotional materials;
Reportedly, one of the most well-known bitcoin casinos in the world is 7BitPartners;
Cryptocurrency Support: 7Bit Casino supports cryptocurrencies like Bitcoin, providing an additional payment option for players;
Timely Payments: A reliable affiliate program should offer timely and consistent payments to its affiliates.
Cons:
Geographical Restrictions: Depending on the program's terms and conditions, there may be restrictions on the countries where affiliates can operate;
Commission Structure and Requirements: While the commission structure can be a pro, it's important to review the specific terms and requirements associated with earning commissions.
These pros and cons are general considerations based on the nature of affiliate programs in the online casino industry. However, it's important to conduct thorough research, review the specific terms of
7Bit Partners
, and assess how well it aligns with your goals and preferences before deciding to join.  
Summary
You may reach the support managers at 7BitPartners at any time for more information on the brands, your account, or running campaigns. Support is available around-the-clock.
The support team will help you plan your campaigns and maximize their effectiveness. Upon registration, new affiliates get a comprehensive training on the site's features, including details on how to set up campaigns and referral links.
With the help of its own gaming platforms, 7BitCasino and KatsuBet Casino, 7BitPartners makes it possible to monetize visitors. This affiliate program has a vested interest in the accomplishment of your projects.
7Bit Partners
program makes every effort to provide its media buyers top-notch services. They are willing to discuss terms that will provide the best results and meet affiliates halfway.